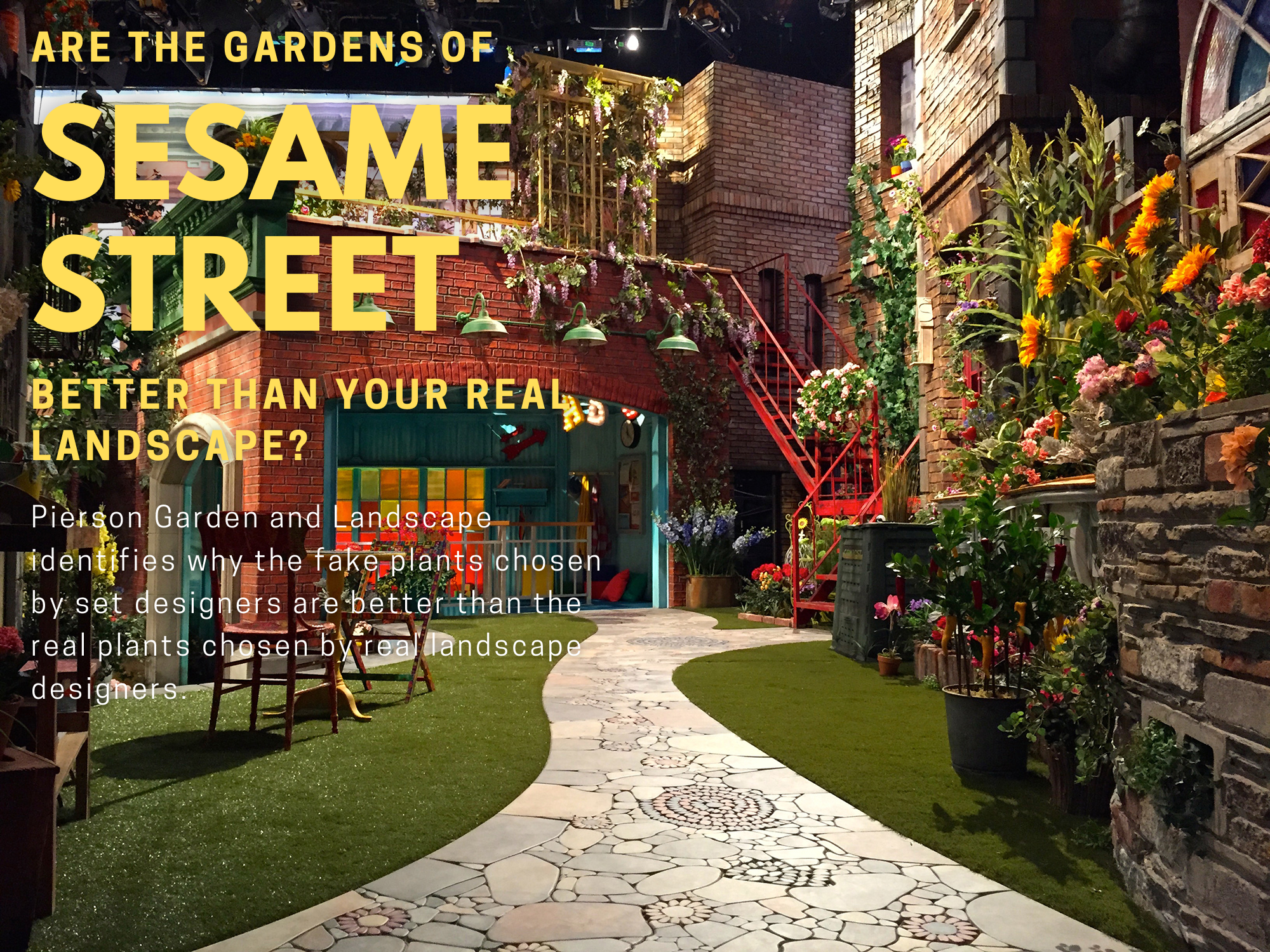 Are Sesame Street's fake plants better than your real ones?  Simply put, probably.
Recently, the set designers of Sesame Street won an Emmy for Outstanding Art Direction, Set Decoration, or Scenic Design.  I can see why!  The street was cleaned and real-life fake plants that would actually grow on Sesame Street in New York were added.  Here's a few things we can learn and use in our own yards.
Diverse boulevard trees for urban landscapes
Designers constructed a 'White Oak', Quercus alba, tree near 'Hoopers Store'.  White Oak trees are hardy to the New York climate and tolerate the wide range of sun conditions.  They grow on moderately-dense city streets.  Also, according to Bachmans Nursery, they are a good selection that tolerates harsh conditions and compacted soils like we see in Carver County and Hennepin County.
In addition, White Oak trees may be good choices for urban plantings.  Oaks are a good wildlife habitat and their unique look adds visual interest.  A variety of trees also reduces the risk of wide-spread diseases.  Park and Rec departments in urban cities, such as Minneapolis, encourage planting of different species.  Many folks used to plant block after block of the same trees such as Elms and Ash.  After some time, cities needed to replant due to diseases including Dutch Elm, and Emerald Ash Borer.
2. Sun-loving flowers and vegetables.
This vegetable garden is great.  It is full of life, productive as a Google search for trivia, and very realistic!  Every plant would grow here.  From left to right; Corn, Sunflowers, Tomatoes, Bell Peppers, Carrots, Miniature Roses (light pink), Dusty Miller (light silver foliage), Orange Osteospermum, Fern, and climbing tall is a Wisteria vine.  All these plants grow in the Cold-Hardiness Zone of Sesame Street.
Also, look at the sunflowers in the photo above.  Their blooms are tracking the sun just like the real ones do!  This garden must get full-sun exposure judging by the plants' health.  Compared to some landscaper-designed gardens, everything in this Sesame Street community garden is meant to grow in full sun and in this environment.
3. Kid-friendly Community Garden
All the plants are good choices for an urban garden for kids too.  Sunflowers (left) are fast-growing and easy to grow.  In the middle are tomatoes and bell peppers.  Both grow in a full-sun garden plus, the warmth of the surrounding brick buildings increases productivity because brickwork retains the days' warmth through cool nights.
Often, real landscape designers use the same sterile shrubs and perennials.  They overfill landscapes with their plants.  Landscapers don't plan for possible annual flowers like sunflowers or edibles like vegetables and herbs like on Sesame Street.  Often, trees are simply planted to close together.  Once they grow together, the shade eliminates areas for sun-loving vegetables and flowers.
(TOP) Background photo credit to Live Design Online, onlinedesign.com